Crispy Jerk Baby Calamari
Golden Fried Jerk Baby Calamari Served with Our Fresh Tomato Salsa, Jerk Sauce and Garlic Aioli
$13.00
Saltfish Bammy Bruschetta
Crispy-Fried Cassava Bammy Covered with Flaky Pickled Jamaican Codfish
$10.00
Curry Goat
Succulent Jamaican Goat Infused with Wild Ginger, Lemon Grass, Fresh Root Vegetables, Coconut Milk and Scotch Bonnet Pepper. Served Over Rice
$19.00
Bone in Oxtail
Indulgent and Tender Oxtail Simmered with Fresh Root Vegetables, Broad Beans and Scotch Bonnet Pepper. Served Over Rice
$22.00
Ackee and Saltfish Spring Rolls
Island Spiced Sautéed Ackee with Saltfish Fried to Perfection and Served with a Decadent Ackee Sauvignon Blanc Sauce
$10.00
Hot and Smokey Jamaican Shrimp Ceviche
Shrimp Marinated and Smoked to Perfection in Flavours of Lemon, Mango, Red Onion, Vine Ripe Tomato, Garlic, Chives and Scotch Bonnet Pepper. Served in an Oyster Shell
$13.00
Crispy Fried Atlantic Oysters
Oysters Deep Fried in Japanese Panko Breadcrumbs. Served on top of a Bed of Mornay Callaloo Infused with Cilantro and Wasabi-Aioli
$17.00
Jamaican Nacho Chips
Our Homemade Crispy Fried Green Plantain & Breadfruit Chips Topped with a Zesty Fiesta of Freshly Chopped Tomatoes, Scallion, Scotch Bonnet Pepper and a Drizzle of Jerk Cheddar Cheese Sauce
$12.00
Island Munchies Platter
A Collection of Miniature Island Nibbles - Oxtail Shepherd's Pie, Curry Goat Ravioli, Popcorn Pork  and Ackee and Saltfish Spring Rolls.
$17.00
Jerkiest Jerk Popcorn Pork
A Yardie Style Rendition of Pigs in a Blanket Featuring Tender Pork Garnished with Honey Jerk BBQ Sauce
$9.00
Wicked Wings
Five Succulent Bone-In Wings Served with Your Choice of One of Our Signature Sauces: Honey Jerk BBQ, Spicy Sweet & Sour, Mango Jerk or Guava Jerk
$10.00
Stamp N Go
Saltfish Fritters Fried to Perfection and Garnished with a Sweet Heat Guava Jerk Sauce
$8.00
Crispy Jerk Baby Calamari
Golden Fried Jerk Baby Calamari Served with Our Fresh Tomato Salsa, Jerk Sauce and Garlic Aioli
$13.00
Crab Wontons
Fried Wontons Filled with Fresh Crab Blended with Indulgent Cream Cheese and Scallion. Served with a Spicy Sweet & Sour Sauce
$11.00
Red Hot Pepper Shrimp
Spicy Jumbo Shrimp Sauteed with Scotch Bonnet Pepper, Garlic, Carrot and Sweet Pepper
$16.00
Saltfish Bammy Bruschetta
Crispy-Fried Cassava Bammy Covered with Flaky Pickled Jamaican Codfish
$10.00
Breadfruit Chip Basket (Seasonal)
Crispy-Fried and Thinly Sliced Breadfruit Garnished with a Garlic Aioli Dipping Sauce
$7.00
Curry Goat Ravioli
Delicately Prepared Ravioli Filled with Succulent Mutton Blended with Garlic, Onion, Scallion, Fresh Thyme and Scotch Bonnet Pepper
$11.00
Soup of the Day
Ask your server about our delicious homemade soups prepared daily.
$6.00
Spiny Lobster Bisque
A Creamy Blend of Delectable Lobster Simmered with Local Island Spices (Seasonal)
$9.00
Caesar Salad Bowl
Farm Fresh Baby Lettuce (Tossed) with Shaved Parmesan Cheese, Crispy Garlic Croutons, Anchovy Fillets and Caesar Dressing Also Available with: Jerk Chicken + $8.00   Grilled Shrimp + $12.00
$13.00
Greek Salad Bowl
Farm Fresh Baby Lettuce Mixed with Feta Cheese, Cucumbers, Tomatoes, Red Onion and Black Kalamata Olives and Tossed in Lemon Lime Vinaigrette and Extra Virgin Olive Oil Dressing Also Available with: Jerk Chicken + $8.00   Grilled Shrimp + $12.00
$13.00
Island Salad Bowl
Farm Fresh Baby Lettuce Mixed with Christophine, Tomato, Cucumber and Shaved Carrots with a Dressing of Your Choice Also Available with: Jerk Chicken + $8.00   Grilled Shrimp + $12.00
$11.00
Jerk Chicken Tacos
A Spicy Fiesta of Crispy Flour Tortillas Filled with Savory Jerk Chicken, Melted Cheese, Lettuce, Tomatoes and Caramelized Onions. Topped with Fresh Tomato Salsa, Sour Cream and Jerk Avocado
$16.00
Jerk Pork Tacos
A Spicy Fiesta of Crispy Flour Tortillas Filled with Savory Jerk Pork, Melted Cheese, Lettuce, Tomatoes and Caramelized Onions. Topped with Fresh Tomato Salsa, Sour Cream and Jerk Avocado
$17.00
Jamaican Club Sandwich
Tender and Spicy Jerk Chicken Breast Layered with Roasted Pork, Shredded Lettuce, Slices of Fresh Tomato and Hard-Boiled Egg and Cheddar Cheese, All Set on Toasted Hardo Bread. Served with Bamboo Blu Seasoned Fries
$16.00
Jerk Wrap (Chicken or Pork)
Jamaica's Most Fiery Tender Chicken or Succulent Pork Wrapped in a flour tortilla and grilled. Served with Bamboo Blu Seasoned Fries
$16.00 or $17.00
Fish N Chips
Panko Crusted and Crispy Fried Gray Snapper Fillet with Tartar Sauce. Served with Bamboo Blu Seasoned Fries  
$16.00
Crispy Fried Fish Sandwich
Panko Crusted and Crispy Fried Gray Snapper Fillet Topped with Crispy Fried Onion Strings, Lettuce, Tomato, Dill Pickle and Tartar Sauce, All Set on a Toasted Hamburger Bun. Served with Bamboo Blu Seasoned Fries
$17.00
Grilled Veggie Burger
Grilled Veggie Patty Topped with a Decadent BBQ Sauce, Melted Cheese, Crispy Fried Onion Strings, Lettuce, Tomato and Dill Pickle, All Set on a Toasted Hamburger Bun. Served with Bamboo Blu Seasoned Fries
$16.00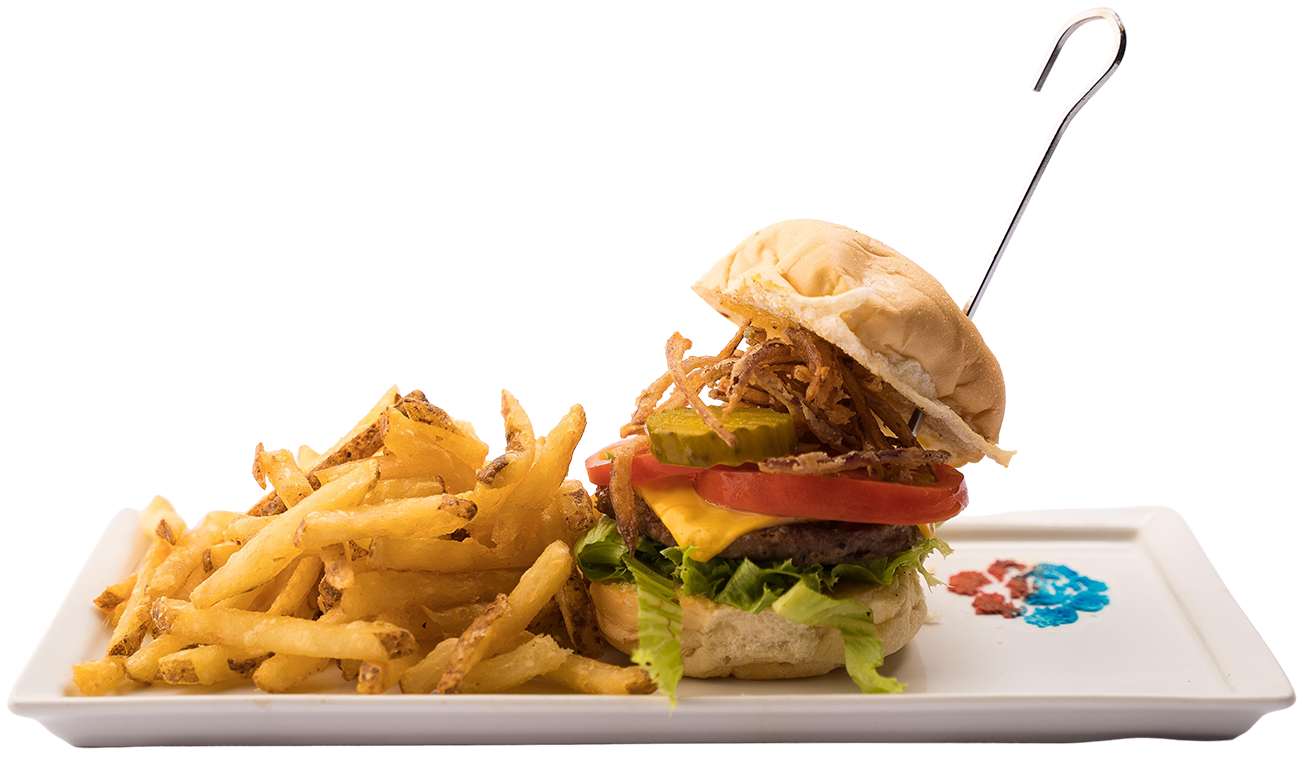 Blu Beef Burger
Juicy Grilled Beef Patty Topped with Melted Cheese, Crispy Fried Onion Strings, Lettuce, Tomato and Dill Pickle, All Set on a Toasted Hamburger Bun. Served with Bamboo Blu Seasoned Fries
$14.00
Coastal Chicken Cheese Burger
Succulent Chicken Burger Topped with Melted Cheese, Crispy Fried Onion Strings, Lettuce, Tomato and Dill Pickle, All Set on a Toasted Hamburger Bun. Served with Bamboo Blu Seasoned Fries
$14.00
Hot Dog
A Classic Grilled Hot Dog with Lettuce, Tomato, and slices of Caramelized Onion and Dill Pickle. Served with Bamboo Blu Seasoned Fries
$10.00
Grilled Caribbean Spiny Lobster
Choose Your Size Lobster and Style (Seasonal) Price: $35/$40/$45/$50 Style: Garlic Butter, Thermidor, Jerk or Coconut
Starting at $35
Oxtail Sheperd's Pie (boneless oxtail)
A Delicate and Flaky Puff Pastry Shell Filled with a Blend of Tender Oxtail, Mini Twisters and Fresh Root Vegetables, Set on a Bed of Sweet Mashed Potato
$24.00
Salmon Fillet
Pan Seared Cajun Seasoned Atlantic Salmon Fillet Infused with Lemon Zest. Set on a Garnished with Thyme-Lime Sauce
$28.00
Shrimp Kebabs Tower
Peppered, Tamarind Glazed and Coconut Jumbo Shrimp Skewered Kebabs. Served with Pepper Sauce, Tamarind Sauce and Sweet Chili Sauce
$29.00
Steamed Mussels
Steamed Black Shelled Mussels Enhanced with White Wine, Thyme, Garlic, Scotch Bonnet Pepper and Fresh Root Vegetables
$22.00
Seafood Flambé
Flambé of Jamaican Shrimp, Bay Scallops and Supreme Chicken Breast Strips Simmered with Spring Onion, Garlic, Fresh Tomatoes, and Blue Mountain Baby Leek, Then Tossed in a Green Thai Curry Sauce Infused with Mascarpone Cheese  
$28.00
Seafood Mac N Cheese
A Seafood Medley of Jamaican Spiny Lobster (Seasonal), Shrimp and Black Shelled Mussels Simmered with Penne Pasta in a Decadent Chardonnay Cheese Sauce with Fresh Herbs and Spices. Garnished with Toasted Garlic Hardo Bread
$25.00
Smoked Salmon Eggs Benedict
Crispy Fried Bammy Covered with Smoked Salmon Eggs Benedict and Garnished with Hot and Smokey Jamaican Shrimp Ceviche and Popcorn Pork
$32.00
Island Sampler Platter
A Larger Portion of Our Famous Island Munchies Platter- Oxtail Shepherd's Pie, Curry Goat Ravioli, Popcorn Pork and Ackee & Saltfish Spring Rolls
$28.00
Whole Fish Escovitch
Whole Red Snapper smothered with an Exquisite Escovitch Sauce. Served with Your Choice of Rice, Fries, Festival or Bammy
$24.00
Whole Fish Steamed
Whole Red Snapper Steamed with Fresh Jamaican Herbs and Spices. Served with Your Choice of Rice, Fries, Festival or Bammy
$24.00

Curry Shrimp
Fresh Shrimp Simmered to Perfection in a Spicy Authentic Indian Curry Sauce and Plated Garnished with White Rice
$25.00
Coconut Rundown Snapper
Freshly Steamed Caribbean Snapper Simmered in Coconut Milk and Garnished with White Rice
$24.00
Baked Bungo Crab
A Crab Back Shell Stuffed with Succulent Crab Meat Seasoned with Fresh Jamaican Herbs and Spices and Garnished with a Slice of Toasted Hardo Bread
$28.00
Veggie Stew
An Aromatic Medley of Fresh Vegetables Simmered in a Decadent Coconut Rundown Sauce. Served with Rice
$16.00
Baby Back Ribs
Fall-Off-the-Bone Pork Ribs, Grilled and Simmered in Our Secret Rich Jerk BBQ Sauce
$30.00
Pimento Chicken Breast
Pimento-Grilled Chicken Breast Marinated in a Zesty Thyme and Scotch Bonnet Pepper Red Wine Sauce
$18.00
Jerkiest Jerk Pork
Pimento-Grilled and Succulent Pork Leg Marinated in Our Secret Blend of Fresh Island Herbs and Spices
$17.00
Jerkiest Jerk Chicken
Pimento-Grilled Chicken Seasoned in Our Secret Blend of Fresh Island Herbs and Spices
$16.00
Main Event Pastas
Main Event Pastas Your Choice of Linguini or Penne Pasta and Your Preferred Sauce: Alfredo, Pesto, Creamy Tomato, Tomato Basil or Pumpkin Coconut Add to Your Pasta: Vegetables $4.80 Jerk Chicken $8.00   Grilled Shrimp $12.00
$14.00
Sweet Potato Donuts
Decadent Sweet Potato Pudding-Filled Donuts, Fried Golden Brown and Topped with Smooth Caramel and Toasted Walnuts
$12.00
Banana Sushi
Ripe Banana Pan Seared, Glazed with Triple Berry Sauce and Coated in Caramelized Walnuts, Graham Cracker Crust and Dark Chocolate
$9.00
Homemade Mocha Cheese Cakee
Award-Winning Cheesecake with an Oreo Cookie Crust and a Hint of Bailey's Cream, Set on a Bourbon Tia Maria Coffee Sauce
$10.00
Coco Mania
Coconut Ice Cream Sprinkled with Coconut Shavings and Topped with Coconut Bites
$9.00
Lime Cay Pie
Homemade Freshly Squeezed Lime and Sweetened Condensed Milk Baked to Perfection
$8.00
Fried Cinnamon Cheese Cake
A Flour Tortilla Filled with Cheesecake, Crushed Graham Crackers and Nutella, Fried to a Golden Brown Finish and Sprinkled with Cinnamon Sugar. Served Warm
$12.00
All prices are quoted in US Currency and will attract 15% GCT and 10% Service Charge.
All Prices are subject to change Kindly advise your server of any food allergies or dietary concerns